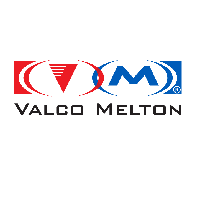 Valco Melton Spain
Contact - Valco Melton Spain
Pol. Ind. Agustinos C/G D34
31160 Orkoien
Spain
Send a message - Valco Melton Spain
Legal information - Valco Melton Spain
| | |
| --- | --- |
| Nature | Head Office - Factory - Registered Office - Sales Office |
| Year established | 1952 |
| Legal form | Sociedad Limitada |
| Describe your Company and attract Business opportunities (CNAE09) | Fabricación de maquinaria para la industria del plástico y el caucho (2896) |
| CIF | B31262009 |
| VAT no | ESB31262009 |
| No employees (address) | Not declared |
| No employees | Not declared |
| Kompass ID? | ES1035631 |
| Kompass member for | + 6 years |
| Membership | Booster |
Presentation - Valco Melton Spain
Hot Melting

Valco Melton is one of the world's leaders in adhesive dispensing machinery, vision inspection and electronic monitoring systems for quality assurance. From box manufacturing to making baby diapers or even assembling toys, we are specialized in the design and manufacture of quality assurance and dispensing systems that apply, monitor and verify liquids or adhesives to seal, box, package, carton, stick, bind, tape and even add perfumes or lotions within a wide variety of packaging machinery, paper converting, non woven, graphic arts, woodworking, and specialized product assembly categories.
Company catalogues - Valco Melton Spain
Company's Videos - Valco Melton Spain
General Information - Valco Melton Spain
Certifications
| | |
| --- | --- |
| Type: | ISO:9001 |
| Number | 0.04.05404 |
Brands - Valco Melton Spain
Contact people - Valco Melton Spain
Sr Gonzalo Marco
Manager (European General Manager)
Sr Carlo Zucchi
Site Director/Manager (Director of Sales, Europe)
News - Valco Melton Spain
Previous news
New product

Valco Melton's Sealtak® for e-Commerce Packaging: Introducing the smart alternative to double-sided tapes

Date: May 13, 2020 10:00 PM

The irruption of the COVID-19 across the world has altered purchasing habits and amplified an already growing trend: e-commerce. In line with the mobility restrictions that our societies are enduring, online commerce remains as a solid ally for companies nowadays.

As a leading supplier to the corrugated and folding carton industries for hot and cold gluing and quality assurance systems, Valco Melton is offering SealTak® a multiple application solution package for your e-commerce products from a single supplier.

This includes the application of pressure sensitive hot melt adhesive and release liner for easier peel and seal (replaces Transfer Tape), the application of Tear Tape, and optional cold glue equipment for In-Line Cross Gluing – a complete solution from one single brand.

By eliminating the use of double-sided tapes, Sealtak® technology brings the following benefits:

- Improved easy peel and seal feature

- Stronger bond

- Reduced downtime

- High speed and efficiency

- Cost savings

Learn more about the complete e-commerce packaging solution, and watch how it works by visiting:

https://www2.valcomelton.com/learn-more-about-sealtak-system

For additional information, you may contact us at

info@valcomelton.es

, or find your closest Valco Melton representative at

https://www.valcomelton.com/find-us/

New office opening

Valco Melton opens new office in Poland

Date: March 17, 2020 11:00 PM

Location: Poland

After 4 years of successful operation in Siechnice, and in order to provide improved customer service, Valco Melton Poland has moved its headquarters. This change is effective as of 7th Feb, 2020. You can now find us at:

Valco Melton Poland Sp. z o.o.
ul. Ptasia 1
55-095 Długołęka, Polska

Valco Melton Poland opened its doors in 2016, as part of the company's strategy to expand its global footprint and to strengthen its position in Eastern Europe.
Since that date, Valco Melton Poland has been providing local businesses with a direct access to a full range of gluing and quality assurance systems, including:

- The latest in hot melt and cold glue dispensing technologies, as well as quality assurance systems
- Direct and dedicated technical support
- Process upgrading and optimization consultancy and support

It is our goal to continue to provide our Polish customers with the best in gluing equipment and service, and we are confident that our new location will be an asset in achieving this purpose.

Press release

All-Electric dot adhesive application revolutionizes the bag manufacturing industry by reducing adhesive usage.

Date: December 29, 2019 11:00 PM


For countless years, the paper bag manufacturing machinery has been utilizing pneumatic hot melt dispensing equipment for patch handle attachment until the recent emergence of the all-electric technology. Valco Melton's EcoStitch applicator incorporates an innovative gluing technology, applicable to handle patch formation and attachment, bottom paste and bottom patch reinforcement, and bag seam gluing.

The benefits that EcoStitch all-electric technology brings to bag manufacture are almost endless. By focusing on the client, all-electric systems improve the OEE (Overall Equipment Effectiveness) by reducing adhesive usage, downtime and consumable parts, giving bag producers a direct competitive advantage over their rivals.

Historically, manufacturers have used compressed air (pneumatic systems) because it was easily available and satisfied the original design criteria established by early hot melt systems. Nevertheless, these pneumatic systems have had several long-term issues including constant and costly parts replacement, diminishing solenoid performance and use dynamic seals which are at the heart of system performance inefficiency. Electric gear pumps and electric valves require almost 90% less seals and spare parts to run, when compared to pneumatic pumps and valves. By eliminating the number of moving parts, all-electric systems eliminate the chance of failure, caused by worn out or imperfect seals.

Further, it is in regards to adhesive consumption that sets EcoStitch apart from all other gluing methods. Its new glue dots pattern application, configurable by the customer for every product requirement, allows from 40 to 70% in adhesive savings. In most frequent cases, this guarantees complete payback in as little as 4 months

Bond strength is also benefited by a dot and gap pattern. In an adhesive bead pattern, only the bead ends provide a high bond. However, EcoStitch dots, while putting down less adhesive, provide more bonding surface area and more independent bonds with focused fiber penetration. Every dot flatten out 360-degrees with compression providing more bonding surface area while maintaining heat penetration. Valco Melton's solution has passed each and every strength test developed by the most strict customers - an evidence of reliability.

Sustainability continues to be a key fact in package design and equipment design. As the packaging industry feels pressure to reduce its overall carbon footprint, all electric systems offer an attractive solution toward fulfilling these goals. In recognition of Valco Melton's commitment with ecological values, EcoStitch technology has been nominated for the Sustainability Awards 2019 due its proved environmental benefits reducing adhesive usage.




Nominations

Valco Melton, finalist for the Sustainability Awards 2019

Date: September 9, 2019 10:00 PM

End: September 30, 2019 9:59 PM


Valco Melton is pleased to announce that its EcoStitch™ Technology is one of the four finalists of the 2019 Sustainability Awards, in the "Machinery" category.

These independently judged awards are accredited by the World Packaging Organization, and honour six companies who have developed a solution with a positive impact on different areas of packaging innovation.

More specifically, the "Machinery" category for which EcoStitch Technology has been nominated, recognizes innovations in engineering that have increased production line environmental efficiencies.

Valco Melton's EcoStitch hot melt package sealing solution is bringing innovation, sustainability and lower carbon footprints to the end of line packaging process. EcoStitch technology is an all-electric hot melt gluing solution that eliminates compressed air and all dynamic wear seals that are used in traditional pneumatic glue systems. All EcoStitch solutions focus on reducing the adhesive usage on each product from 35% to as much as 75%, eliminating the need for compressed air, faster production speeds and no wear parts requiring preventive or routine maintenance. Valco Melton is the world leader in all electric gluing solutions which make an immediate impact in lowering the carbon footprint of any manufacturing facility it's integrated into.

Whether it's providing more sustainability through reduction in compressed air, reduction in materials used to produce product or the elimination of parts and downtime, the Valco Melton EcoStitch solution is disrupting the package sealing marketplace in a major and impactful way.

As explained in the Sustainability Awards website, these awards " set the agenda on best practice, turn the spotlight on the most important areas of R&D, and help separate greenwash from the innovations that make a genuine difference."

At Valco Melton, we are proud to be part of this event, as we feel it recognizes our ongoing efforts in developing more sustainable solutions for the multiple industries we serve. We are looking forward to the Award Ceremony that will take place at FachPack Show in Nuremberg, on September 25.


More news
Location - Valco Melton Spain
Key figures - Valco Melton Spain
Activities - Valco Melton Spain
Producer
Distributor
Service provider
Main activities within the Kompass classification
Other classifications (for some countries)
CNAE (ES 2009) : Fabricación de maquinaria para la industria del plástico y el caucho (2896)
NACE Rev.2 (EU 2008) : Manufacture of plastics and rubber machinery (2896)
ISIC 4 (WORLD) : Manufacture of other special-purpose machinery (2829)
Secondary activities within the Kompass classification